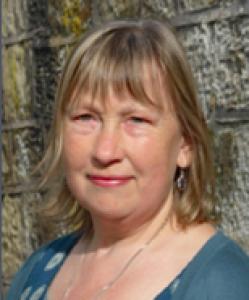 Back to People
Sara Hirtenstein
Course facilitator
Sara Hirtenstein BHSc.
Sara was introduced to Mindfulness at Chisholme House, where it lit such a passion in her heart that over the next eight years she set out on a path of deeper study and practice: first with the Mindfulness Association and then to train extensively in teaching Mindfulness.
Sara has had many years experience of mindful awareness, meditation, retreat and contemplative study.
"Mindfulness has brought me much joy, nourishment and greater understanding as well as the skills and insight for navigating the ups and downs of life. The learning goes on..."
Living now in the Scottish Borders gives Sara ample opportunity for another great pleasure – walking in wild places, being in nature and exploring wildlife.
Sara has had many roles and experience during her life that enrich and enhance her present work now: working in different business and charity settings, partner in a family publishing company, copy editor, course facilitation, occupational therapist and mother of four sons.


Brief Resume of Mindfulness Training

• Introduction to Mindfulness, Chisholme Institute

• 3-year Mindfulness, Compassion and Insight Training, Mindfulness Association

• Mindfulness-based Stress Reduction (MBSR) teacher training retreat with Jon Kabat-Zinn (pioneer of contemporary mindfulness)

• MBSR and Mindfulness-Based Cognitive Therapy teacher training with Bangor University Centre for Mindfulness Research and Practice (ongoing)

• Mindfulness in Schools Project training to teach 8-week course for teachers

• Oxford Mindfulness Centre training to teach new Mindfulness for Life (MBCT for Life) course for Myriad Project

• Listed member of the UK Network for Mindfulness Teachers and follows the UK Good Practice Guidelines.
Some Experience

• Facilitation of introductory workshops, 8-week courses, deepening sessions in the Borders and beyond for 5 years

• Recent completion of 8-week Mindfulness for Life course for secondary school teachers (who then learn to teach the children), for Oxford University Centre for Mindfulness 7-year Myriad research project evaluating the effectiveness of mindfulness on resilience in adolescence

Enquiries: mindfulnessinhawick@gmail.com