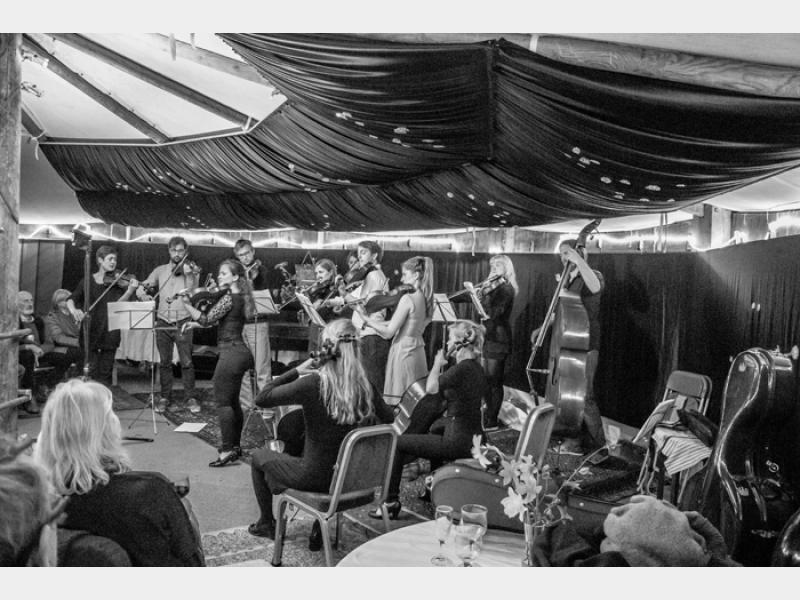 Nescio Ensemble
Chisholme Blog | Tuesday, 2nd May, 2017
The Nescio Ensemble at Chisholme, 28 April 2017
Posted by Richard Gault
The email came out of the blue and with an unusual request: could we put up 12 young musicians for a night or two? In return they'd play for us. Perhaps because the musicians were Dutch (I have a Dutch wife) and the writer's name meant wisdom, or perhaps simply because it seemed such a lovely idea, I immediately said yes.
Back in December the visit seemed far away. But as time went on and the April date drew nearer I did begin to wonder if not worry. Coming from Holland and including someone called Sophie was no guarantee that they would be good. And no matter how good they were, would anyone come to hear them? They called themselves Nescio - which means 'I don't know' and I truly didn't know. Had I been a bit hasty in committing ourselves to this event and adding to our workload?
I had not. The arrangement turned out to be perfect.
The Nescio Ensemble came; they played (to a full house: extra chairs had to be put out); and they conquered their audience's hearts. It was a fabulous evening, the wonder of it heightened by the special ambience the beautifully decorated pavilion offered.
We were all dazzled. Nescio's performance was a celebration and affirmation of the human potential both in the music they played and the way in which they played it. This was virtuosity and passion made manifest. Particularly stunning was Ana Termeulen's rendition of Ysaye's Ballade for Violin Solo. Equally impressive were the haunting sounds which Nescio produced in performing the String Quartet by the contemporary Turkish composer Fazil Say. This latter piece featured the violin of Burcu Ramazanoğlu – herself a Turk from Fazil Say's home city of Ankara.
Burcu felt an immediate affinity with Chisholme and left hoping to return in the summer. We would love to welcome not just her but all of the other musicians of Nescio back. They have left us with an unforgettable memory and an appetite for more.
You can get a glimpse of their talent with this clip from their concert the previous evening at Cornucopia, Unit Four in Hawick – an excerpt from the third movement of Bartok's Divertimento for Strings.

Main photo by Sanne Gault