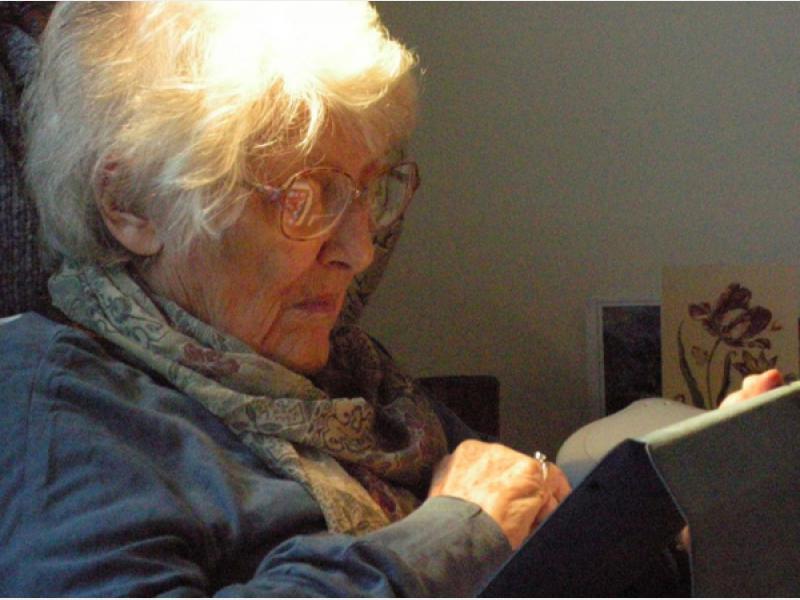 Mansura Brenda Thomas - an exceptional life
Frances Ryan | Thursday, 3rd August, 2017
'What a gift, what a great human!', writes Richard Twinch in his obituary of Mansura Brenda Thomas, who passed away on July 7th 2017.
She was indeed a gift – a remarkable woman and dear friend, who witnessed and participated in the very beginnings of Beshara, Swyre Farm and the early courses at Chisholme.
Her documentation of the Further Intensive Course at Chisholme House (1979-80) provides a unique testament to the workings of this esoteric school and the wisdom insights of the school's consultant Bulent Rauf.
Obituary:
Mansura was born soon after the First World War and remained Brenda to her largely conventional middle-class family all her life. She studied pianoforte at the Royal Academy of Music during World War II, but felt that this was not in the spirit of the war effort so gave up her studies to become a secretary at the BBC. She married and had one daughter, Gina, and completed her musical studies. The marriage failed and Brenda later married David Thomas. She became a grandmother to three bright boys, who later came to live with her and David. Eventually she became a great grandmother and enjoyed the company of yet another new generation. David died in 2012, after suffering from Alzheimer's, and Brenda died peacefully, surrounded by her family, at 10.00 pm on Friday 7th July 2017. All-in-all a normal life, lived well.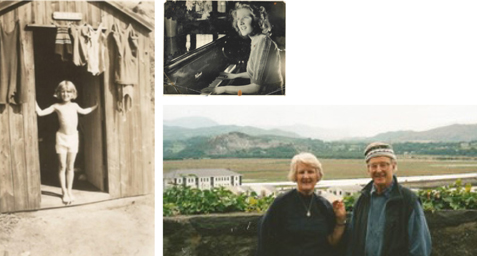 However, Mansura was not an ordinary person and lived an extra-ordinary parallel life of self-knowledge, inner discovery and service to the One Reality. Her name comes from the Arabic and means 'helped by God' - she shares the name with the great Baghdadi mystic Mansur al-Hallaj who was famously beheaded for his ecstatic utterances which went beyond acceptable 'form'. Mansura, though occasionally subject to ecstasy, which I witnessed only once near the end of her long life, remained outwardly sober and always tactful. She was also very strong inwardly and was able to steer a middle way whilst things were falling apart around her.
In 1963, these qualities brought her together with a group in Cambridge known as the Epiphany Philosophers with whom she continued her love of music, studying sounds and energy patterns. Their number included the scientist Rupert Sheldrake and Brian & Elizabeth Dupré with whom she formed a deep friendship - their homes in Milton and Landbeach (where Brian was the Rector) being close together a few miles north of Cambridge. Mansura died exactly (7/7/17) on the 40th anniversary of Brian's death on 7/7/77.
Around 1967-68, Mansura met Pir Vilayat Inayat Khan, whose father Hazrat Inayat Khan was a famous musician from the Chisti family and founder of the Sufi Order of the West. Both Mansura and her husband David were drawn to him and he in turn saw their special qualities and invited them to be in charge of a study group in Cambridge - which included myself, my soon-to-be wife Cecilia, Brian's son Adam , Adam's sister Charlotte and her boyfriend Bob Turner . Mansura had also came across the work of Ibn Arabi, through Henry Corbin's book 'Creative Imagination' , whilst at a conference held by Pir Vilayat in Suresnes, near Paris, and was much taken with the ideas.
This was a time of great change and some turmoil, and before long Mansura had met with Sir George Trevelyan of the Wrekin Trust, Reshad Feild (late of the Springfields pop group) and the Rev. Peter Dewey. They were all involved in the foundation of the community at Swyre Farm in the Cotswolds which became known as Beshara, where Mansura and David were to live for several months – 'dedicated but not particularly happy' as Mansura later describes.
Subsequently, Mansura met Bulent Rauf whose manner, advice and translation of Ibn Arabi's 'Fusus al-Hikam' was to remain by her side for the next 40 years. It was while staying in Turkey with Bulent that she became witness to the departure of Reshad Feild from Beshara – and again she was able to convey the importance of the continuation of Beshara without its charismatic 'frontman'.
Mansura has written all about this in her Beshara Memories which includes fascinating insights into the events of the time and the process of self-knowledge that ensued. Like others before him, Bulent Rauf also recognised Mansura's special qualities and her position as a generational intermediary and calming influence upon a somewhat rebellious youth culture of which I was part!
After dedicated work establishing a Beshara Centre in Cambridge, misunderstood by both her family, some of whom disowned her, and our generation who lacked experience, Mansura continued to hold to the Real as her source of guidance and her recognition that in Bulent Rauf she had found somebody of real worth, and in Ibn Arabi a source of deep wisdom.
It became Mansura's turn to respond to the invitation to attend the course at the Beshara School of Intensive Esoteric Education held at Sherborne House in 1978, leaving behind David to 'mind the shop' and an infirm father, who alone amongst her original family supported her spiritual quest. Mansura was invited soon after to attend the second Beshara School Advanced Course, again without David, being held at Chisholme House. Unusually, Mansura was given permission to write notes from the course in the shorthand she had learnt during her National Service – the notes coming to light in a trunk during the course of writing her memoirs. This is indeed a treasure-trove and includes the final talk she gave to all her co-students, including Bulent.
After the course at Chisholme life changed yet again: she had to attend to her father, who was soon to die, and to the needs of her daughter and grandsons who had become marital refugees. Mansura was never one to hang on to places and forms – the antique business that had been her mainstay was no longer seen as appropriate and she was one of the first to study aromatherapy seriously, through which she was useful to many people for the rest of her life. Her husband retired and wanted to go back to his native North Wales, so they moved to Porthmadog, at the edge of the Snowdonia National Park. They stayed for many years until David's health and the needs of the family brought them back to Cambridgeshire.
We were not much in contact during her Welsh days as we lived on the other side of the country and were busy with a young family, so it was interesting to read of Mansura's account of the people she met who again recognised her special qualities as she did theirs. Mansura was deeply empathetic in an age before the term became popular!
David died peacefully in 2012 and Mansura continued to live at their last home in Haddenham. By this time she was quite deaf (helped by hearing aids of various qualities), poor sighted and largely immobile – but the indomitable Mansura denied that she was in 'failing health' and took to conversing with the world through an iPad and shared numerous beautiful images of flowers and trees, some from her own garden. She also wrote many emails and revived old friendships. Her daughter Gina came to live with her and she helped Gina as much as Gina helped her – they were like two bookends that held a great deal of knowledge, experience and wisdom between them.
It was thus that Mansura was asked, agreed and wrote her Beshara Memories that will remain a legacy, I hope, both to what she witnessed, what she knew and who she remains.
Of Bulent Rauf, she wrote at the end of her Memories
Bulent was able to turn words like Reality and phrases like Unity of Existence into one intimate word HIM". "Go straight to Him!", and then to make the ordinary extra-ordinary. He used the word "sheer" to take everything beyond what can be imagined. Unbelievably simple and enlightening. What a gift, what a great Man!
All I can add of Mansura is 'What a gift, what a great human!'
Tevfik/Richard Twinch Oxford July 2017
If anybody wants to read the Beshara Memories this is possible on-line. Please send a request to rtwinch@gmail.com. In due course it may be published.
Main photograph by Lawrence Ball.
Inset photos: As a young girl looking out on life and all its possibilities; a beautiful accomplished young woman; as a married middle aged woman with David, who is so much part of her story.