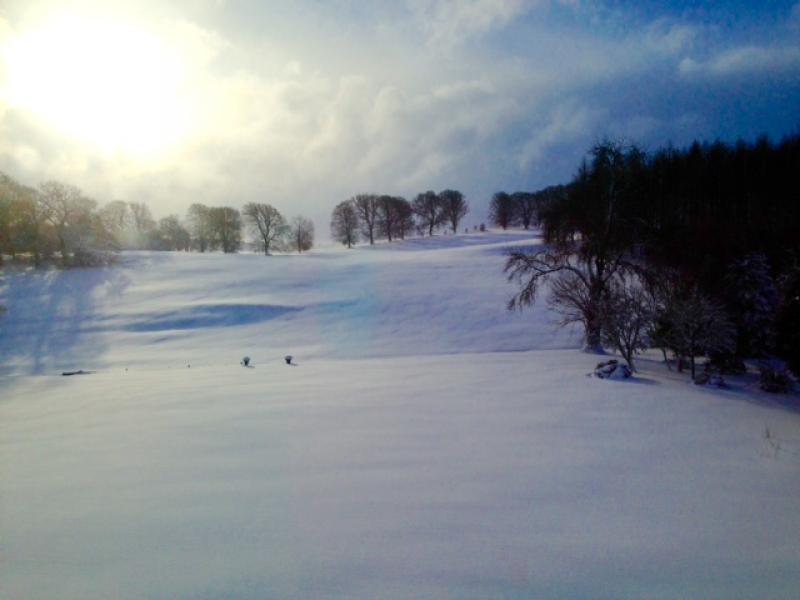 News this month– February (8)
Frances Ryan | Thursday, 1st March, 2018
February was devoted to a time of 'stopping', in which residents and guests are invited to enter into a spirit of shared enquiry and deep questioning of what is to be next for the place and our place in it.
Here below is a short report for the last day of this enquiry, put together by Robin Thomson.
To start at the beginning of the notes, please click here...
Wednesday, 28 February
Swathed in white snow comes the last day of this month of ablution and conversation. People were asked to share any insights or other experiences gained during this period. The ablution of the house is a metaphor for abluting ourselves, shedding light on parts of ourselves we would rather avoid, and creating a clear space that can then be receptive. A strong sense emerged that the school must be based not on an idea but on sustained practice, covering every aspect of life and work here, including our very companionship.
Minutes before we gathered for this last conversation an e-mail was received at Chisholme, with perfect timing for the last day. Written by a young student who has previously undertaken the six-month course, it expresses concern that Chisholme may have abandoned its traditions and roots in a misguided attempt to appeal to new, primarily younger people. Yet what is really needed is that the school abide by and adhere to its root and thereby provide a rigorous grounding. This, writes the author, is what young people really need and increasingly know they want.
Surely this letter appeals to the very spirit that has guided this month now ending: to reaffirm the core education of the school, to ablute away our accretions and to request guidance so that the conditions for the Essential education can be sustained here. Cosmetic alterations based on conjecture are folly. Abandoning the spirit and essence of the wisdom offered here would be catastrophic. We therefore find a situation in which the essential is to be reaffirmed and we beg to be held in it, while requesting that any change that is necessary arises from the Real itself, out of Its own new configurations for the time, and not out of any artistry of our own.
We have to beware that unless there is at least a hint of taste or vision awake in us, this may be hard to see, and we may succumb to the temptation to rely on what we think we know. The writer of the letter had experienced the six-month course and had had a taste of the education, and now was writing, seemingly, with longing for that taste from somewhere that seemed far away.
Moreover, any order or tradition exists solely to serve the possibility of vision. It is the scaffold by which, as described in the Four Pills, one can 'build in', in order to then reach. Tradition has no other purpose and no sake of its own. The body of wisdom offered at Chisholme serves this possibility superbly and solely, and it does not constitute a badge or identity, far less a religion. But to throw it away would be to kick away the ladder one stands on and to attempt to reach vision from nothing.
The conversation was animated and sometimes heated as it came to its end. This dramatic finish poses the question over again of what we have received this month and how we can best conform to what is required and offered here. We ask and beg for help.
And all gratitude for what has been given this month.
Join the conversation from where you are.
Send your thoughts and contributions to info@chisholme.org.
Please use the subject line 'February Conversation' – many thanks!