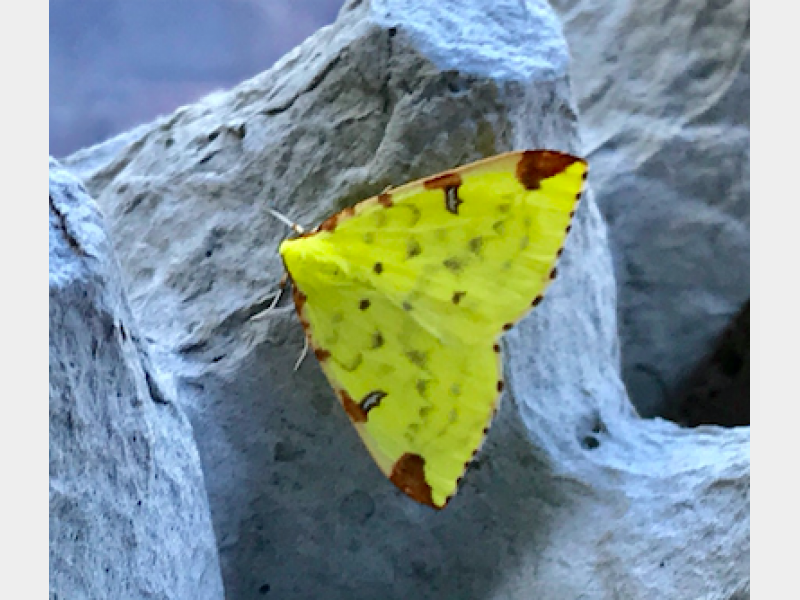 Beauties of the night, and of the day…
Frances Ryan | Tuesday, 17th July, 2018
Beauties of the night, and of the day…
In early July the Scottish Wildlife Trust arranged a walk around the Chisholme Estate.
We were fortunate enough to have as our guides Alison Smith, Malcolm Lindsay and Sarah Eno, all extremely well versed in things to do with nature. Malcolm, who knows a lot about moths, suggested setting traps the night before. The day could then start with a look at what the traps had to offer, followed by a tour of the estate, ending with a hike up to Chapel Hill and back down for afternoon tea at Chisholme. Would that be enough to fill a day, we wondered?
Saturday morning arrived, and more than 30 people assembled from all corners of the Borders; for many this was their first visit to Chisholme.
Malcolm had set two traps – one near the house and one at the top of Whitrig Wood. There is a good variety of deciduous trees around the house, and an abundance of birch in Whitrig which would attract different kinds of night-flying insects. Once in the trap, moths tend to crawl into shelters made up of egg-boxes, where they can safely stay until daytime, and after inspection be released unharmed.
Everyone collected near the garden table on the front lawn and Malcolm opened the traps. Taking the greatest possible care he gently prised out the egg-boxes one by one, to see what the previous night might have yielded.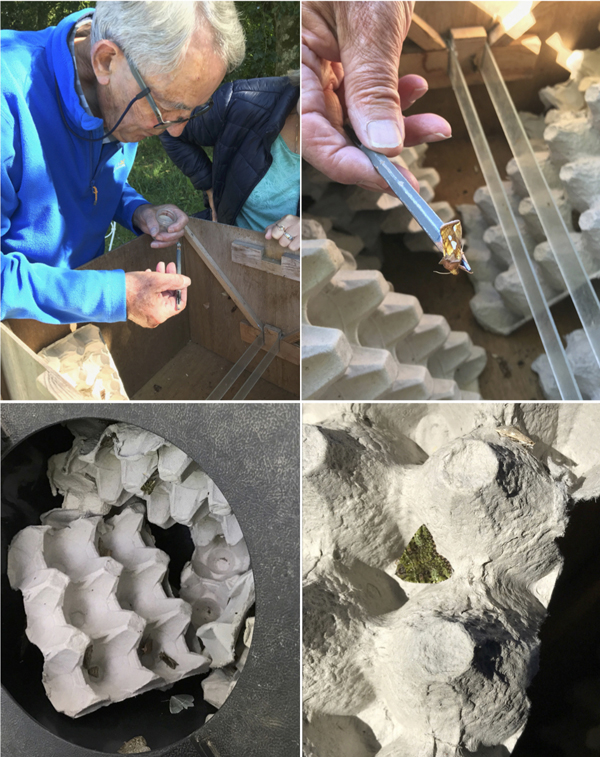 You may be forgiven to think that of all the lovely things the Chisholme Estate has to offer, moths would be somewhere very low down on a list of priorities….but for those of us present on that Saturday morning, there was a very pleasant surprise!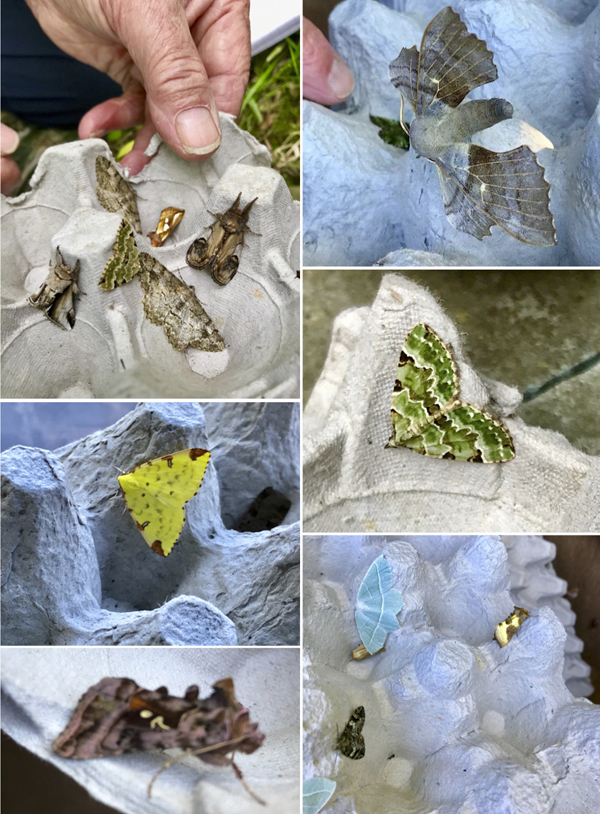 Starting top right and going clockwise:
Poplar Hawk Moth; Green Carpet; Lt Emerald & Burnished Brass & Dark Marbled Carpet; Beautiful Golden-Y; Brimstone moth; 2 Mottled Beauty (above and below) then from the left Lesser Swallow Prominent, Green Carpet, Lempke's Gold Spot, Pebble Prominent
Just two traps in one night in July produced over 65 different species of moth – each with a beautiful and poetic name, doing justice to their delicate and subtle differences – such as Common Lutestring, Angel Shades, True Lovers Knot, Smoky Wainscot, Burnished Brass, Mottled Beauty… We spent a spellbinding hour delighted by these lovely creatures, who gave us a glimpse into just one tiny facet of that extraordinary world of the night, of which most of us are usually quite unaware.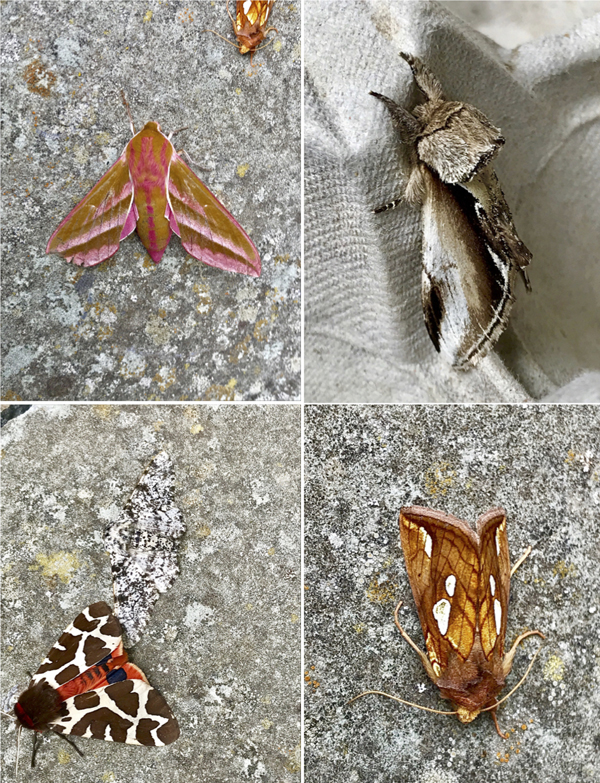 Lesser Swallow Prominent; Lempke's Gold Spot; Garden Tiger and Peppered Moth; Elephant Hawk Moth
We then moved to Jili's beautiful woodland garden, overflowing with foxgloves and other woodland flowers, to look for red squirrels, admired the swan family on the lake, and proceeded down the drive to enter Whitrig Wood.
Whitrig Wood, or the Wild Woods, as many call them, is indeed a wild and wonderful place. The woods had been partly clear-felled in the early 1980s and then left virtually untouched to re-generate of their own accord. For unknown reasons, a few trees, including oak, rowan and Caledonian pines, had been left standing and these have now matured into magnificent trees of great character. They stand between the half-rotten trunks of old windfalls and thickets of young birch, adding a touch of magic and mystery to these woods and providing food and shelter to a myriad of creatures, from fungi and lichen to orchids, woodpecker, deer, fox and buzzard.
We spent hours in the woods, being shown countless details large and small, in particular by Sarah Eno, who is a very experienced botanist. Here are some of the things she pointed out: the easily visible woodland plants at that time year are typical ferns like Male Fern, Broad Buckler Fern and very fine scrambling Bedstraws - Marsh Bedstraw especially. Many flowering plants like Marsh Avens had finished flowering and were left with their little spiky seed burrs like a bad hair day. There was a beautiful 'Melancholy Thistle' in flower in the lower part of the woods; it is named so because apparently it was used to treat melancholy; certainly when in flower it does! There were several Heath Spotted Orchids, which flower slightly later than other orchids, and up on the moor there was the very bright yellow of the iris family plant, Bog Aspodel. It is known also as Bonebreaker (Narthecium ossifragum) because it was thought that lambs feeding on it got brittle bones, but the truth is, that it was calcium deficiency in the pasture. However a known side-effect of eating the plant is apparently that it increases the sensitivity of lambs skin (esp. ears) to sunburn, if they eat the plant.
Once we reached the top of the hill, there was only time for a quick sortie to the moorland, and then it was time to return to the house.
Colin, Julie, Hiroko, Lucy and the many volunteers at Chisholme House had prepared a magnificent afternoon tea for us, with poppy seed cake and banoffi pie, and we all left happy, well fed and deeply nourished by the beauty of the day.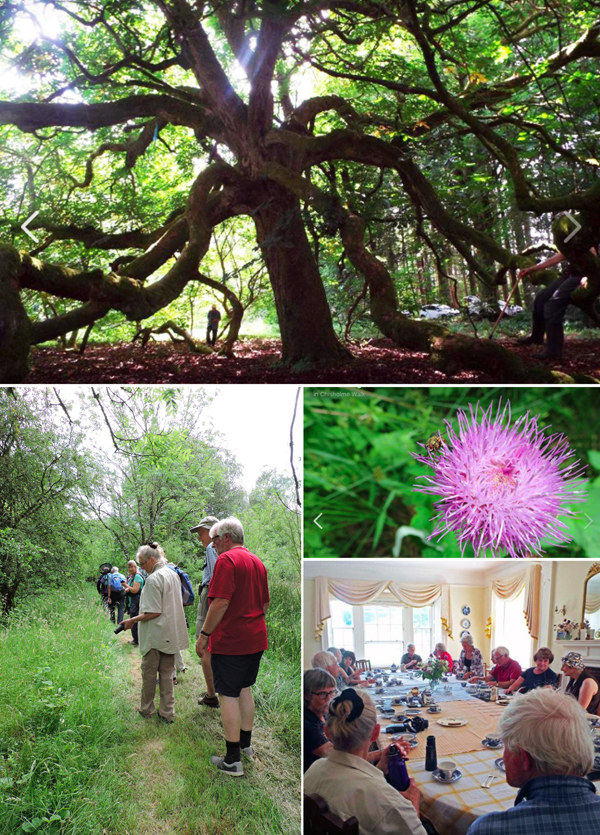 Read and download the full moth survey