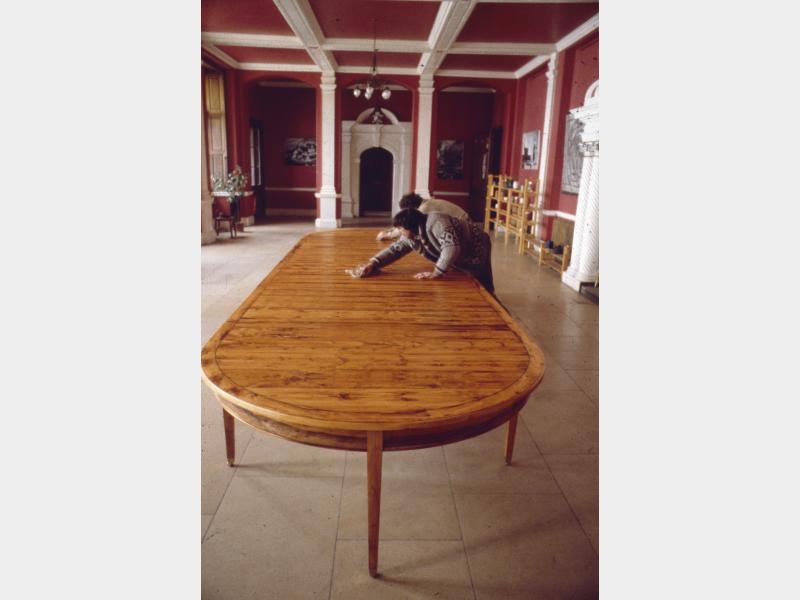 Happy Birthday, lovely table!
Charles Verey | Saturday, 8th December, 2018
The fabulous dining-room table at Chisholme is 40 years old this winter. It can seat up to 26 people and was custom-made to fit the room, by Charles Verey. He was a novice carpenter at the time, and – as he recounts below – had never made a piece of furniture before in his life…
Charles writes: It was made in 1978, in the workshops on the lower ground floor at Sherborne House in Gloucestershire, in response to a specific request for a dining-table for Chisholme. It was delivered to Chisholme 40 years ago, in or around the second week of December.
I had been a student on the first Beshara 6-month course held at Sherborne from Michaelmas 1976. My only experience of joinery came later from a 6-month government-funded retraining course in Carpentry and Joinery. I had lived in Radnorshire for several years and was eligible to do this course in Wales: and in the event I signed in at Wrexham in Clwyd in the winter of 1977-78.
While I was doing this carpentry course I took a room in a boarding house in Ruabon and drove down every week-end to the original Beshara Centre at Swyre Farm. It must have been around this time that a company called Beshara Crafts Ltd was set up, because when the Wrexham course ended in April 1978, I was given access to the large but rather dark workshop at Sherborne and started to work as Beshara Crafts Woodworking Division. I invested in two machines, a heavy mortice machine and a well-engineered German-made multipurpose woodworking machine with planer/thicknesser, saw bench and a spindle attachment. At the time however I had no experience in making furniture.
Chisholme House had been painstakingly restored by volunteers after the first 6-month course held there in 1975-76. In the summer of 1978 I was asked to make a dining table that would be suitable for the first advanced 'second-course' planned by Bulent Rauf, who at the time was consultant to the school. I was told that it would be needed in October. In the event it was delivered in time for Christmas.
Shape, size and style were specified by Bulent and the specification was passed on to me by John Boyd-Brent on a simple descriptive pencil drawing. It was to be 18 feet long by six wide and it was to be made using a felled Yew tree from the grounds at Sherborne House.
The yew had not been planked, but it was clear that it would need to be cut through into thicknesses that would suit the cutting lists for the table. It was also clear to me that it would be too difficult to make a flat surface of the required size of the table-top out of solid timber. In any case there was nothing like enough yew to even consider it as an option. I decided to make the top in three sections and to use the best quality ply-wood. In principle the table would be made in ply-wood and beech and the structure would be hidden under applied pieces of cut and shaped yew. The twelve legs are the only solid yew pieces.
So before we took the trunk to the Sherborne Estate wood-mill, plan and elevation scale-drawings were needed, as well as a good calculator and a lot of rough paper. Experiments had also to be made to find out how wide a board could be cut back to three-millimetre-thick fillets on the table-saw. The final width of the yew boards that are laid down onto the ply-wood tops would initially be dictated by the capacity of the multi-purpose machine: but in the event when we came to planking the yew-tree trunk it was clear that although I could calculate optimum thicknesses for each plank, the width of boards would be dictated by the markings, knots and irregularities of the timber.
Finally after many hours' work, I had help from Judy Kearns and others, away from the dusty workshop in the great hall at Sherborne House, to clean the surface in order to take the finishing oil. The long hours of wood-working had come and gone: in spite of lack of experience and the narrowest of margins between the amount of yew required and the potential of the timber that was given for the work, the process had progressed with a sense of ease.
Some concern has recently been expressed about the fading from the morning sunlight and from heat marking. The surface however has its own natural mellowness. I am not however the right person to advise on any treatment that might help its further natural aging: a good antiques restorer would surely give better advice.
The dining-table, like every act of recognition that Chisholme has inspired both in its interior facing and in its exterior face, is held without any possibility of doubt under a single order of hearing and taste. For this there is only gratitude to the unknowable author of the mysteries of absoluteness.
Charles Verey 5th December 2018