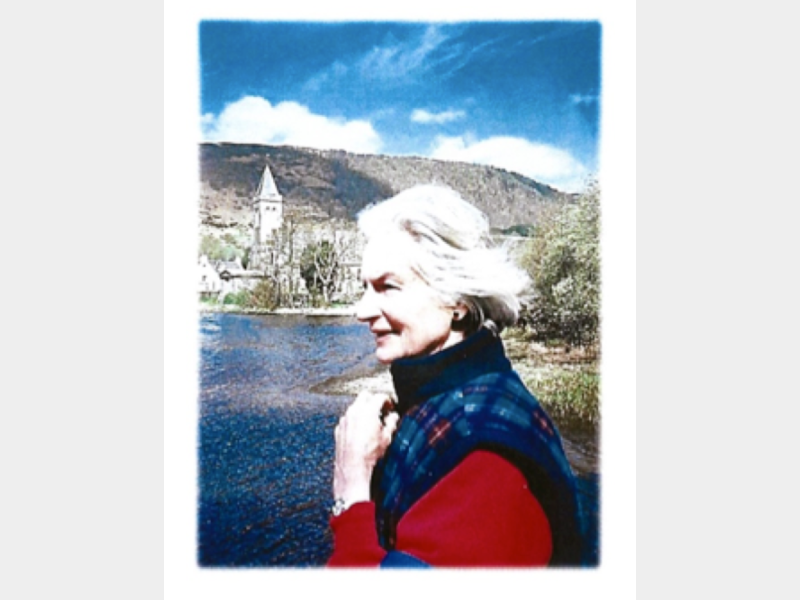 In gratitude to Ludi How, 1922-2022
Christina Mark | Wednesday, 21st September, 2022
Ludi's final leaving the world signifies the loss of one of the twentieth century's great souls. She was a bright light to many, showing the way through the darkness of human innocence in spiritual matters. Lyndon Antle, former trustee of the Salisbury Centre
Ludi Frances How was inspired by a vision of universal spirituality, looking for meaning beyond appearance. In the 1970s she visited Swyre Farm in Gloucestershire with Anne Macauley, who was a member of the Beshara Trust. It was a setting where many people gathered to study the Unity of Existence under the guidance of Reshad Feild, and then with Bulent Rauf.
Ludi decided to create a centre in Edinburgh for a similar purpose. With the support of her husband Bill and Winifred Rushforth and the Reverend Peter Dewey, sufficient funds were raised for the purchase of 2, Salisbury Road, and Ludi became a founder member and trustee of the Edinburgh Beshara Centre in Edinburgh.
Ludi told Bulent about a derelict manor, locally known as Chisholme House, a 'hidden treasure', set in acres of farmland in the Scottish Borders, which had not been suitable for her plan to establish a residential healing centre, but which could become another gathering place for people who wanted to learn more about the Oneness and Uniqueness of Being. And so, it came about that Paul Finegan, accompanied by Richard Hornsby, who spent much time with Bulent, set out on a journey of discovery. They took photographs of the house and land, and within months a trust was formed, and a small group of people gathered to begin the long task of renovating Chisholme House, so that it would be ready for the first 6-month residential course in 1975. It wasn't! However, the work continued, and continues, in the house and on the land, and Chisholme House still provides the setting for courses in esoteric education.
So, thank you Ludi for setting the wheels in motion for the discovery of Chisholme House, and for the hampers of food that you and your husband Bill would bring regularly to the new residents, packed with delicious food and drink.
As Lyndon Antle says 'Ludi's heart was always profoundly committed to its purpose.' She demonstrated this in 2012, when she was involved with the rededication of the Salisbury Centre to its original intention to promote the understanding of the Unity of Existence through service, study, meditation, and zikr.'
So, thank you again Ludi for your dedication and devotion to your spiritual path, which has led so many people to the Salisbury Centre and to Chisholme House, to seek inspiration and practice in the meaning beyond appearances that inform our lives.
Here are some words for Ludi from Paul Finegan, who was a director of the Chisholme Institute for over 40 years:
From the Heart of Love we came
To the Heart of Love we return
Love holds us, Love enfolds us;
Our whole journey is the movement of love in Love.
May your homeward journey be made easy, Ludi, and enfolded in the Love of Returning!
By Christina Mark, fellow healing practitioner and student of esoteric education