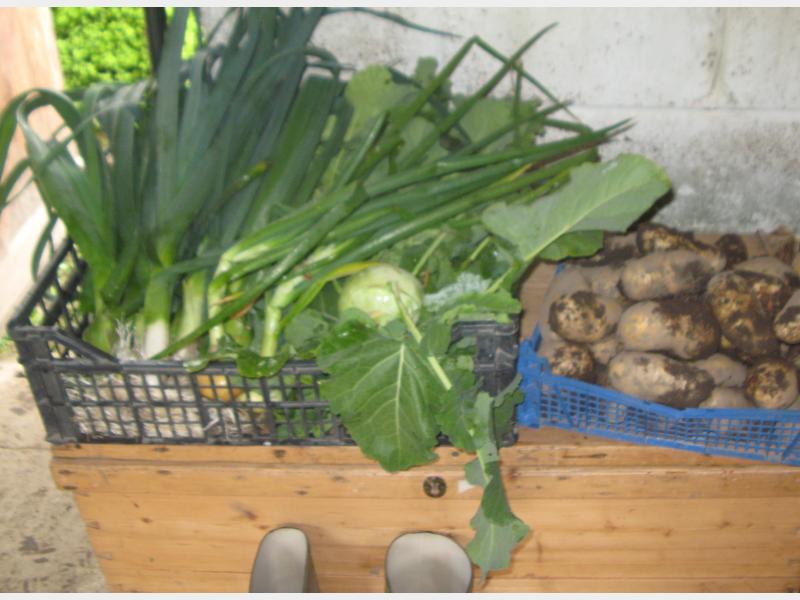 A simple soup
Chisholme Blog | Saturday, 13th August, 2016
From Ann Marie Burbidge
Today it was a pleasure for me to cook in the kitchen at Chisholme. I had at my disposal several very good, but simple, ingredients from the garden, which included new leeks and potatoes as well as the first two onions harvested. We cooked a leek and potato soup for lunch, which was very tasty and very welcome since we did not have a particularly warm day here in Scotland. Every drop of the soup was eaten and was served with börek made the previous evening along with the fresh bread that we make every day.
At our table we have a variety of people from a variety of different cultures. We also have several fellow students and volunteers with special dietary needs and we consider it very important to address these needs. Mindful of this we made a soup which was dairy free, meat free and gluten free. As one may imagine this is not always an easy task, but in asking for help, this invariably comes in the form of inspiration, generosity and love.
I have often contemplated whilst in the kitchen that it is not a simple matter of producing and edible meal for the table on time each day. I have reflected on the obligation to bring out the very best in the food provided for us, both from the garden and many other sources and the further obligation to waste as little as possible in the process. This bounty is given to nourish us in every possible way and therefore must be honoured as the miracle that it actually is. Bulent Rauf's 'Notice to Cooks' displayed in the kitchen states that 'there is nothing in the divine order devoid of beauty'. Therefore the fresh produce we have is beautiful! And in my experience, the processes involved in the cooking of a meal are also really quite beautiful. Let me share with you the recipe for this soup. Obviously I have cooked a large quantity for the table here at Chisholme but I will give you a recipe that should feed four.
Leek and Potato Soup
Gluten and dairy free
2 medium onions diced
4 medium leeks washed and thinly sliced
4 large potatoes washed, peeled and cubed, about 1cm squares
2 medium sticks of celery washed and thinly sliced
2 pints of vegetable stock
Salt and pepper to taste
Fresh chopped parsley to serve

Sauté the onions in olive oil until translucent. Add the sliced leeks and continue to sauté until the leeks are soft and tender. Add the celery and continue to sauté the combined vegetable until all are soft and tender. Add the cubed potatoes and cook for a few minutes then add the vegetable stock. If you do not have any home made vegetable stock you can use a good organic gluten-free bouillon. Add salt and pepper to taste. Allow the soup to come to a boil and then simmer for approx. 30 mins. Some of the potatoes will break up and provide a natural thickener for the soup. Serve the soup with fresh chopped parsley sprinkled on top.
You may decide to blend the soup once it is cooked but it is very enjoyable served chunky with nice crusty bread. I hope you enjoy making this quick but very nutritious soup.
Ann Marie, Aziza Burbidge
Cook and kitchen manager