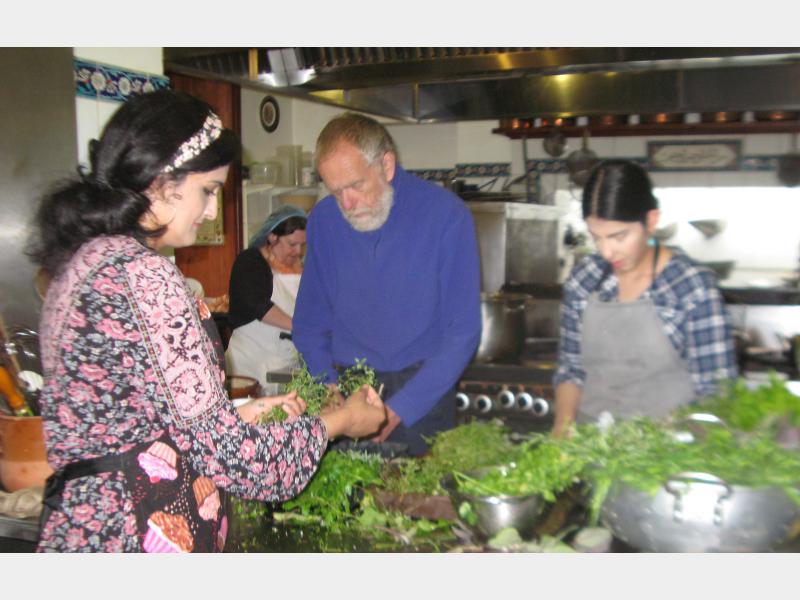 Summer Harvest Bonanza
Chisholme Blog | Monday, 15th August, 2016
Posted by Eleanor Wray, Chisholme Gardener
This week, six volunteers joined us for the August volunteer week. Every day was jam-packed with the volunteers splitting their time between the kitchen and the garden. John Hill, our garden advisor, came up for the beginning of the week and imparted wise words to the new volunteers. The weather was really good to us at the start of the week, and we were able to spend the first day out in the sunshine harvesting all the berries from the garden that were made into preserves. One night, the blackcurrants we harvested were turned into a coulis that was served with ice-cream and went down a treat!
We helped the outdoor runner beans secure their growth by adding horizontal canes to their supports. Once the runner beans reach these canes, they should hopefully begin to grow along them, creating a canopy of runner beans that I'm sure will look incredible. I can't wait to be able to delve into the thick mass of sticky leaves, dotted with bright red flowers and the long hanging beans, collecting enough to feed us this winter.
Friday and Saturday were huge days for us, as we all banded together to harvest as much as possible for our first day at the Hawick Saturday Market. We spent the whole morning collecting lettuce, celery, rhubarb, purple gooseberries, runner beans and loads of other tasty things. With help from Aziza our cook, the volunteers tied up and packaged the lettuce and herbs into beautiful bunches, laid out in baskets, ready for the people of Hawick.
We also harvested an entire patch of new potatoes, and a huge number of them had grown so big that one night we had thick, crispy potato wedges with coleslaw made from some of the beautiful kohlrabi that thrived thanks to the warm weather. We also collected the first harvest of peas that became the renowned pea puree served with Saturday's fish and chips, along with a giant harvest of broad beans.
It's so incredible to see the tiny seeds we planted in April growing into massive courgette plants that have been feeding us for the past month. Or the broad beans, no bigger than the tip of our thumbs, sprouting into 7-foot-tall plants, each producing a hundred more beans for us to eat. I feel so lucky to have been here to watch them grow, to take care of them for the volunteers and students who helped plant them, and to watch others enjoy them as they are prepared in the kitchen and finally served to the table.